Greaseless Compound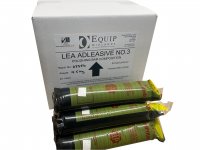 These greaseless abrasive bar compounds can be used for satin finishing, deburring, buffing and flexible polishing. Available from coarse A80 grit to fine A320 grit, and are to be used with standard calico mops.
Grades available: -
Aluminium Oxide - 80, 120, 150, 180, 220, 240, 320
Silicon Carbide - 120, 150
Equip also supply a bonding glue for use with Satin Finish Compounds. This is abrasive free bonding agent to prepare the mop with a more aggressive cutting action or to improve the life of the compound.
Please contact our sales team for any special requirements.
Prev | 1 | Next